The Issue 21 KAL is getting started on Instagram! To participate, just share photos of your projects from the new issue with our hashtag, #amirisu21kal. The knit-along will be running until January 31, 2021. Hop over to our Instagram for details. Today we're talking with Rievive about her design Spica, a sweater with lots of nostalgic charm. We asked her about her inspiration and how she's been spending the extra time at home over the past few months.   amirisu: What was your inspiration for this design? Rievive: The image of a silk cocoon was the first thing that popped into my head when I saw the...
---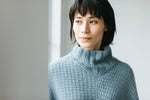 Today we are talking with Megumi Sawada about her elegant poncho, Fuyunagi. A poncho can tend to give an outfit a casual look, but the simple shape and lovely drape of this design, especially when worked in Woolfolk's LUFT like the sample, make this poncho one that goes just as well with a dress and heels as it does with a pair of pants.   amirisu: What was your inspiration for this design? Megumi:  I decided from the start that I wanted to design a poncho that could be easily thrown on for some extra warmth during fall and winter. I was imagining...
---
We hope everyone is keeping safe and healthy. amirisu Issue 21 was released earlier this month on November 6. The designs in this issue are all about texture and color. We are excited to showcase the designs here on our blog by sharing some short conversations with designers who contributed to this issue. Today, we are talking with Keiko Kikuno about Akemi, her bright, textured sweater shown on the cover of the Japanese edition. amirisu: What was your inspiration for this design? Keiko: I was interested designing a sweater with different stitch patterns like a sampler, but was also thinking of designing something with fringe. I...