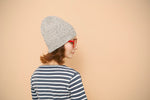 みなさん、こんにちは。
今号はちょっと気合いを入れて、掲載作品やデザイナーの方々を紹介していきたいと思います。第1弾は、Preble。リリースの1週間前まで表紙にする予定だった、レイラのデザインした帽子です。
From this week to July, we are going to introduce patterns and designers from the latest issue.  The first is Preble, a beautiful intricate hat pattern from Leila Raabe.
This was the initial cover image - until a week before the release.
表紙候補だった写真はこれ。ちょっと古い雑誌風にしたかったので。でも、春らしい方を取りました。
今回建築写真を並べたイメージボードを元にデザインしてもらった帽子がこれ。
どうやって生まれたのでしょう?
レイラ:今住んでいるメイン州ポートランドの中心市街地、美しいレンガ造りの建物が沢山あるの。特に、毎日通勤途中に目に入るこの建物に刺激を受けたわ(このリンクから1900年代初めごろの様子が見れます)。
When presented the mood board full of architectural photos, Leila came back to us with the Preble design. Where has she gotten the inspiration?
Leila says: My current neighborhood, downtown Portland, Maine, with its beautiful brick architecture; in particular, the building at the head of my street that I see every morning on my walk to work (a neat vintage photograph of this building from early 1900s can be found at the following website: http://www.mainememory.net/artifact/18124/enlarge).
建物の外壁を思い起こさせる、リブのデザイン。上手く表現されていると思います。
でも他の糸で編んだらどうなるかしら?と聞いたところ、
「
Shelterの糸の質感がこの模様にはピッタリだとおもうのだけど、Loftでもいいわね。実は最初はLoftで編もうかと思ってスワッチを編んでみたの。ゴム編みとケーブルのバランスがどんな感じになるのかと思って。結果とてもデリケートな編み地に。これも結講気に入っているわ。
」とのこと。
他の色で編むとしたら、おススメはもちろんレンガ色だそう。Wool Socksという色がお気に入りなんだけど、それほど注目を浴びていない色で残念なのだとか。
A swatch in Loft
Loftのスワッチ
A swatch in Shelter
Shelterのスワッチ
The image of the brick wall is extremely well recreated with the stitch pattern! What other type of yarn would work for this pattern? Any specific yarn suggestions?
Leila: I think the woolen qualities of Shelter are perfect for the ribbing pattern and twisted cable. If I had to pick a different yarn, it would be Loft. One of my initial swatches for the hat was actually done in Loft to see what kind of scale and proportion the rib and cable would have (the result: very delicate. But I'd still love to do a fingering-weight version!).
If she is to knit it again, she would choose brick red, she added.  One of her favorite colors of Shelter is Wool Socks, and she feels it doesn't get the attention it deserves.
もしデザインに変更を加えるとしたら、彼女なりのアイデアを聞いてみました。
レイラ:自分自身が緩みのある帽子が好きなので、デザインする帽子の殆どは少し長さに余裕があるの。Prebleについても、もう少しピッタリした帽子が好みであれば、メインチャートの段1〜14を省略し、長さを4.5cm縮めるといいと思う。これによって、全体の長さが18.5cmになるわ。
Loftで編んでみたり、レンガ色で編んでみたり、というアイデア。ピッタリした帽子なら男性用にもいい感じ。
色々なアイデアを貰いました!
We asked about modification ideas, too.
Leila: I love wearing slouchy hats, and most of my hat designs are written with extra hat height as a result. To modify the hat to a more traditional beanie height, though, I would suggest omitting chart rows 1–14 of the Main Chart to shorten the overall height by 1.75" (4.5 cm). This would give you a modified hat height of 7.25" (18.5 cm).
最後に、Leilaに編み物について訊いてみました。
最近編み物的にはどんな気分?凝っている編みかたとかある?
レイラ:毎晩できる限り編むようにはしているんだけど、皮肉なことに毛糸メーカーに務める前よりも編める時間が少ないわね(笑)。他のニッターのみんなと同様、私もドラマの1シーズン分を一気見するのが好き。ソファーに釘付けになっている間に随分編み物が捗るのよ。デザインに関しては、アイデアが湧くに任せているところがあって、いつまでに何を仕上げようといったルールには従わないようにしているの。その方が創造性が刺激されるし。そして、いつもショールに戻ってくる気がしている。様々な理由から、ショールを編むのが一番好きなのね。飽きることはないと思うわ。次はセーターをデザインしようと思っているけどね!
Lastly, we asked about her knitting habit.
amirisu: What is your mood for knitting/designing these days? What type of projects or techniques are you exploring these days?
Leila: I knit in the evenings whenever I can these days, which ironically is less than when I didn't work for a knitting-based company. :) Like a lot of knitters I love to put on a TV show and watch an entire season in one or two sittings--a lot of knitting gets accomplished when I'm glued to the sofa.

As for designing, I more or less let ideas come to me as they will, rather than try to adhere to a more rigid schedule of "x concepts" in "y frame of time". I find that this approach works best for my own creativity. I keep returning again and again to shawls--they're my favorite kind of project for so many reasons. I don't think I'll ever become bored by them. I'd like to design another sweater soon, though!
Leila with her latest shawl design, Florin Triangle. So gorgeous!
最新のデザイン、Florin Triangleショールを身につけるレイラ。ステキ!